Flower Farm in Suttons Bay Michigan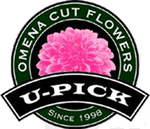 Suttons Bay resident and grower Carolyn Faught owns Omena Cut Flowers located on M-22 and Freeland Roads. Omena Cut Flowers has been featured in Midwest Living Magazine and is truly a must see destination in Leelanau County and while visiting Suttons Bay (and perfect for Suttons Bay and surrounding area residents too!).
Visit their Suttons Bay flower website at www.OmenaCutFlowers.com to see what all the fuss is about!
PS: Grower Carolyn Faught of Suttons Bay is known nationally as the "Omena Flower Lady" (great way to be known!)